These two goofballs finally made their 23rd appointment to play each other in the good old USA. Funny, that the only times they've ever met on American soil have been in Miami (2004, 2005 and 2010).
They first met each other in 2004.
Then they meet in 2005 again.
The rest is history.
Roger: Look, what I remember from seven years ago when I played him the first time, I came back from sun stroke in Indian Wells after beating Henman, and kind of dragged my way through the match with Davydenko. I don't know how much I had actually heard about Nadal before that match.
I remember seeing him for a bit over a year, I think, because he had a breakthrough maybe in Monaco the year before or somewhere else. I knew he was good, you know, but he, I guess, surprised me to some degree that he was so consistent, so good on hardcourts already so early.
That really showed me he was going to become a probably world No. 1, Grand Slam champion, just a really special Spaniard who could not only play on clay but other surfaces as well. He clearly lived up to all the expectations. From then on it went; the rest we know.
It's obvious that they have a lot of affection for each other.
Rafa: When I go on court against him I feel it's a really special match, especially because we play always really important matches. That makes the rivalry very, very special. I don't know if rivals in the rest of the history of tennis played a lot of the matches, as many matches as we played. I don't know how many matches McEnroe/Borg or Sampras/Agassi played, but we played a lot a lot times. So that makes the match really special always.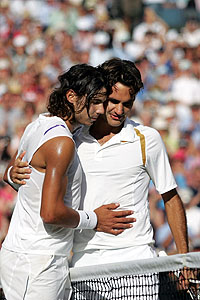 Then they went on play dates in each other's country.

Roger: My No. 1 rival to me it seems is Rafa. Doesn't matter how many more times I'm going to be playing all the other guys. At the moment, we have that history and nobody can take it away from us. That's why the only thing really missing from us is a US Open match, I guess, and a few other maybe tournaments.

But we've played in so many big finals against each other and were able to play over four or five tough sets and have always shown a lot respect towards each other. So, yeah, clearly those are the matches I'm really looking forward to and hoping to play my best tennis.


If you win, great; if you lose, that's okay, too, as long as you tried everything and learned something else from that match after you lost. But I am planning to win, and that's why I have to be well prepared.


I think in the beginning, early on in my career when I became the world No. 1 I didn't really have that rival, and I was very happy about it. I was just able to win, win, win, and dominate and go on and lose, you know, ten matches in two years kind of thing. That was quite incredible.

So in the beginning I guess I struggled to embrace the rivalry I had with Rafa. Only later on I was able to say this is actually quite cool. Sleeveless, pirate pants, you name it, long hair, lefty, spins, more with the flat shots and so forth and double handed against one handed, lefty against righty. I think it all kind of made sense, and I was able to embrace it then.

I think we had some good times in the past, and they have changed into what it is today. Really respectful and helping each other for good causes, foundation matches, you name it, for tsunamis. We've done so many things together. It's been a lot of fun.

May the bromance continue!