Federer is more than just a beautiful player to watch. In tough 5 setter, He showed real heart to fight off a comeback from Gilles Simon who gives him trouble. For an account from someone who was there, see Dootsiez' story. You really must check it out.
You haz a 16-2 head to head record against someone but you're coming back from 6 plus month layoff from tennis. You would think you might be rusty, but you hope you're in your opponent's head. Well, not this time. JuJu lost to Sveta. Sob!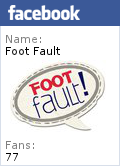 Coming back from a knee injury, strained psoas (groin) muscle, screaming in sharp pain ... Props to you Vee for coming back to beat your 2nd round opponent, Zahlavova, but it doesn't take a genius (much less your mum) to tell you that it's OK to give Petko a walkover. Get your health back, and take as much time as you need. The sport needs you.
Caro is the world number 1, hasn't won a Slam (yet), gets accused of giving
boring pressers
, but she's got real smarts. You've got to see the
video
of the presser for yourself. See
transcript
). Matt Cronin, you just got pwned.